ForumSprache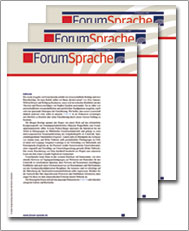 Since 2009 ForumSprache has established itself as an innovative international multilingual journal for language teaching and learning, combining research papers, contributions on best practice, language policy and controversial issues.
A growing number of people have accessed the journal from around the globe. Unfortunately, willingness to purchase articles has not risen in the same way. We very much regret that we cannot continue to produce ForumSprache beyond issue 6/2011, which went online in December 2011. All issues of ForumSprache can be reached free of charge under All issues at a glance.
We would like to thank the editors and all contributors - both authors and reviewers - for their unstinting efforts to produce a journal of high quality and stimulating content. Finally, we thank our readers for their interest in ForumSprache.