Interaktive Kursbücher, Lerner-DVD-ROMs, Arbeitsbuch-CD-ROMs, Interaktive Lehrerhandbücher
… and other Adobe AIR based software products
Das interaktive Kursbuch funktioniert nicht mit der 64-Bit-Version von Windows 10 oder unter macOS 10.15 (Catalina)
Die Software lässt sich zwar auf dem Rechner installieren, startet aber nicht.
Bei den interaktiven Kursbüchern handelt es sich um 32-Bit Software, die nur unter
Microsoft Windows 7, 8 oder 10 (32 Bit)
macOS bis zur Version 10.14 (32 Bit)
lauffähig ist. Ein Update, mit dem sich die Software auch auf 64-Bit-Systemen nutzen lässt, steht zurzeit nicht zur Verfügung.
Quick Start Guide for the error message "Installer file is damaged"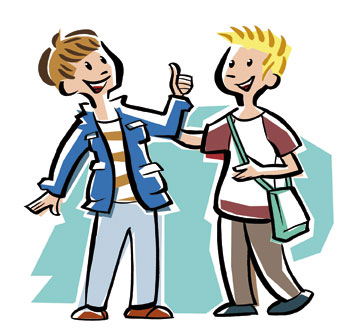 Products/product families:AusBlick Beste Freunde Chiaro! deutsch.com eñe Ideen Menschen On y va ! Planet Planetino Schritte international Schritte plus Sicher! Ziel
Product types:Digitales Unterrichtspaket Interaktive Zusatzübungen Interaktives Kursbuch Interaktives Lehrerhandbuch Lerner-DVD-ROM
Solve error message "Installation file damaged" appearing during installation
During the installation process of your product the error message "Installer file is damaged" appears on Windows or MacOS systems. Adobe AIR, needed for our application, blocks and refuses installation.
Please follow these step-by-step instructions to install your software without the error message. This is the official Adobe Systems provided solution on this issue.
For Windows:
Download the latest Adobe AIR runtime Installer AdobeAIRInstaller.exe (version 28.0.0.127 or later) from the Adobe-Website
Double click on the "AdobeAIRInstaller.exe" to install the latest Adobe AIR runtime installer
Go to "C:\Program Files (x86)\Common Files\Adobe AIR\Versions\1.0"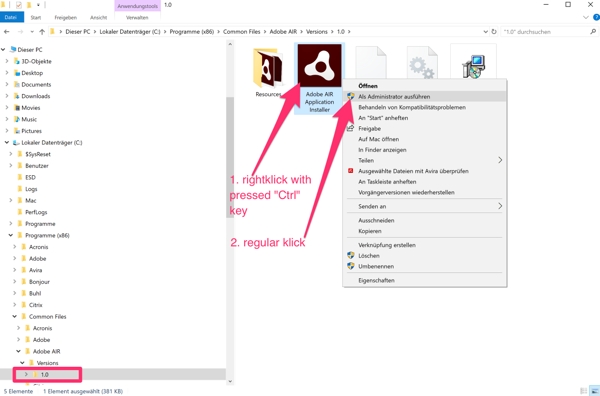 Run "Adobe AIR Application Installer.exe" with Admin privileges (Right click->Run as Administrator). Press and hold

Ctrl

key, before clicking on "Run as Administrator". You can release the key when the "Adobe AIR Application Installer" open dialog box appears on screen.
Important note: If a User Account Control dialog appears before the Installer is launched, you have to confirm it by clicking 'Yes' while holding the

Ctrl

key
Insert the Hueber Installer disk (CD or DVD)
Select the "install.air" app to be installed (on the Installer disk) from the folder window or from inside Adobe AIR Application Installer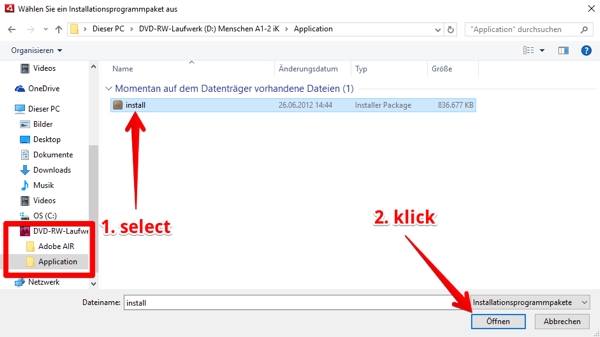 For macOS:
Download the latest Adobe AIR runtime Installer (version 28.0.0.127 or later) from the Adobe-Website
Double click on the "AdobeAir.dmg" to install the latest Adobe AIR runtime installer
Go to "/Application/Utilities/"
Hold

Cmd

(or

Command

) and double click on "Adobe AIR Application Installer". You can release the key when the "Adobe AIR Application Installer" open dialog box appears on screen
Insert the Hueber CD or DVD and double click on the .dmg file to mount your Product Installer disk image
From the Finder window or from inside Adobe AIR Application Installer, select the Hueber Product "install.air" app (on the Installer disk)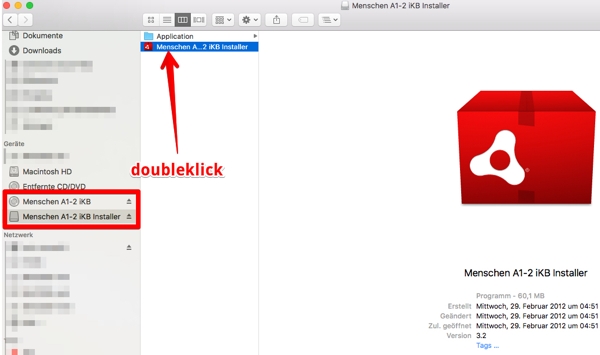 The app should be installed successfully
Updated:
15. November 2019